Instruments
Patrick only uses one kind of guitar at his shows. For his acoustic work, he uses a Donohue single cutaway. This unique guitar was built by JJ Donohue in Warsaw, IN.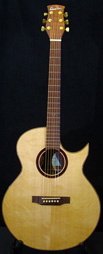 It's 20 frets to the neck, and has a Lutz bear-claw spruce top, with East Indian Rosewood back and sides. The pickup system is an I-Beam. To find out more about the details of Patrick's new guitar, click on www.donohueguitars.com.
In the past, Patrick had used an acoustic Wechter Pathmaker, made by Abe Wechter at Sweetwater Sound in Ft. Wayne, IN. This guitar had a double cutaway, had a spruce top, was made out of mahogony back and sides, and had 22 frets to the neck. He recorded both of his first two albums with this guitar.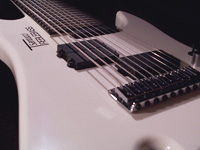 In addition to his acoustic work, Patrick also played a Santucci Treblebass, made by Sergio Santucci from New York. It was a ten string electric guitar, with four bass strings, and six guitar strings all in one neck, so the player could be capable of playing two parts simultaniously. Patrick has retired the instrument from his setlist ever since 2008, to concentrate on an all-acoustic set. One guitar has proved to be most satisfying and rewarding. He is, however, considering bringing back the treblebass in the future to use "here and there" on just strictly recordings.
For his other equipment, Patrick uses Mackie srm 450 speakers, Mackie 1200 mixing board, Ultimate support stands, Alesis Nanoverb, TC Electronics Chorus and Flanger, and D'Adarrio acoustic strings.